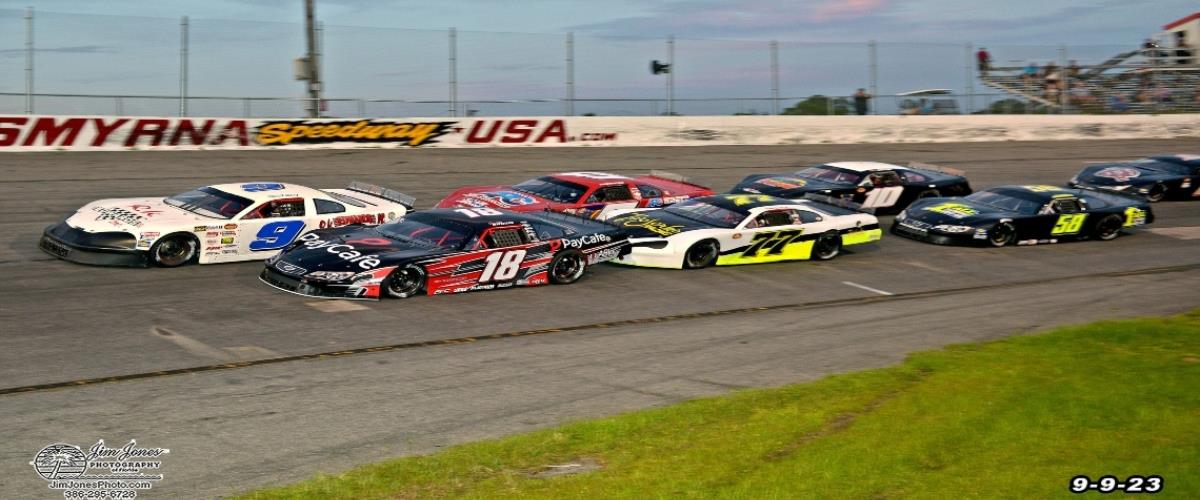 Congratulations Carson Brown #18 Winner of the Hoosier Challenge Pro Late Model 100!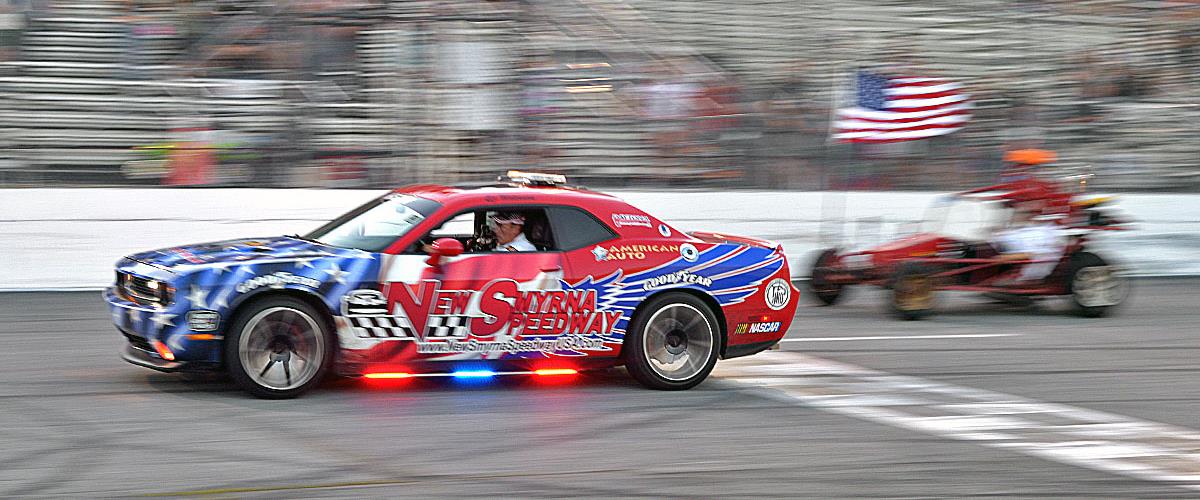 PACE CAR
EJ with American Auto & Tire Service in the beautiful ALL American Pace Car at New Smyrna Speedway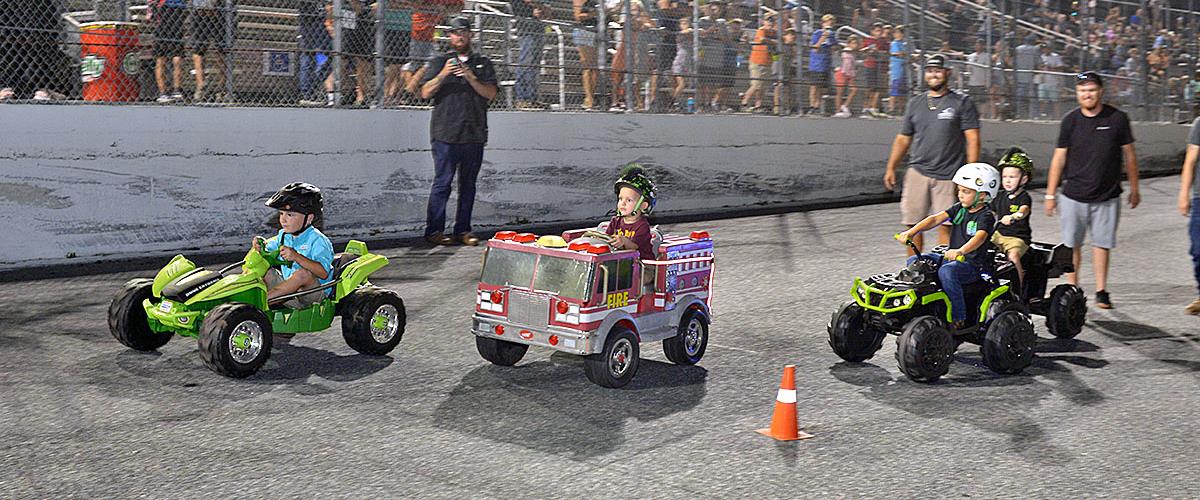 KIDS HOT WHEEL RACE
It was a fun night at New Smyrna Speedway with future racecar drivers!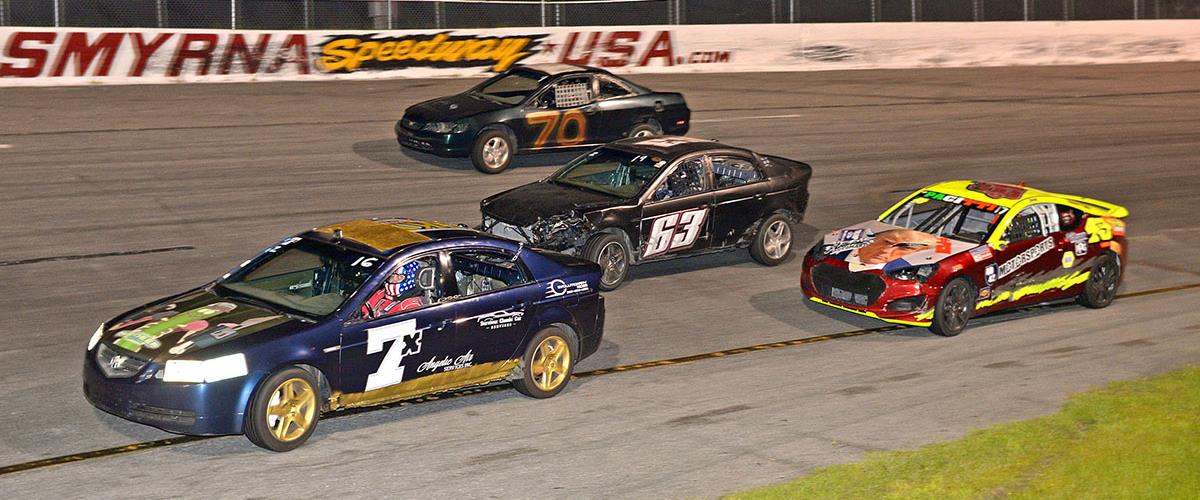 ENDURO
Nothing but excitement with the Annual Armadillo 100 Enduro Race at New Smyrna Speedway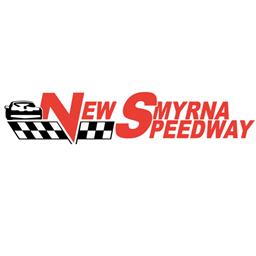 5/28/2022 - New Smyrna Speedway
New Smyrna Beach, FL
Family Fun Night- Orange Blossom Woodworks Bomber B 50
NEW SMYRNA SPEEDWAY
SATURDAY 4/28/22 SCHEDULE
BOMBER B MUST GO THROUGH TECH BEFORE
QUALIFYING
PIT GATE / TECH / FUEL/ REGISTRATION OPEN 3:00
DIVISION PRACTICE 4:30-6:15
BOMBER B QUALIFYING 6:30
DRIVERS MEETING - MANDATORY
NO ENGINES OR GENERATORS RUNNING 7:00
PARADE LAP / NATIONAL ANTHEM 7:20
RACING BEGINS 7:30
Heats:
LKQ SUPER STOCKS 8 LAPS
GROUND POUNDER 8 LAPS
MOD MINI 8 LAPS
BOMBER A 8 LAPS
Spectator Races $100 to win!
INTERMISSION (Kids Bicycle Races)
Features:
LKQ SUPER STOCKS 25 LAPS
BOMBER B 50 LAPS
GROUND POUNDER 20 LAPS
MOD MINI 25 LAPS
BOMBER A 20 LAPS
REGISTRATION for Weekly Divisions closes at 6:00pm
Track Radio Frequency: 468.8625
LKQ Super Stocks

9 entries

Mod Minis

3 entries

Black Jack Seal Coating Bomber A

18 entries

Bomber B

10 entries

Florida Southern Ground Pounders

7 entries
Full Event Information on MyRacePass
LKQ Super Stocks
Finish
Start
#
Competitor
Hometown
+/-
1
2
56
Bobby Holley Osteen, FL
Osteen, FL
1
2
5
16
David Gould Melbourne, FL
Melbourne, FL
3
3
6
00
John Hodge Jacksonville, AR
Jacksonville, AR
3
4
7
56X
Cody Whitley Osteen, FL
Osteen, FL
3
5
1
99
Paul Koci New Smyrna Beach, FL
New Smyrna Beach, FL
-4
6
8
30
Kenny Roth Deltona, FL
Deltona, FL
2
7
9
18
Gage Spears New Smyrna Beach, FL
New Smyrna Beach, FL
2
8
3
48
Justin Spears New Smyrna Beach, FL
New Smyrna Beach, FL
-5
9
4
35
Eugene Tumminello Debary, FL
Debary, FL
-5
Finish
Start
#
Competitor
Hometown
+/-
1
1
48
Justin Spears New Smyrna Beach, FL
New Smyrna Beach, FL
-
2
2
56
Bobby Holley Osteen, FL
Osteen, FL
-
3
4
99
Paul Koci New Smyrna Beach, FL
New Smyrna Beach, FL
1
4
5
35
Eugene Tumminello Debary, FL
Debary, FL
1
5
9
16
David Gould Melbourne, FL
Melbourne, FL
4
6
3
00
John Hodge Jacksonville, AR
Jacksonville, AR
-3
7
7
56X
Cody Whitley Osteen, FL
Osteen, FL
-
8
8
30
Kenny Roth Deltona, FL
Deltona, FL
-
9
6
18
Gage Spears New Smyrna Beach, FL
New Smyrna Beach, FL
-3
Mod Minis
Finish
Start
#
Competitor
Hometown
+/-
1
3
17
Brad Blanton Tavares, FL
Tavares, FL
2
2
2
09
Todd Haught VOLUSIA, FL
VOLUSIA, FL
-
3
1
78
David Russell Melbourne, FL
Melbourne, FL
-2
Finish
Start
#
Competitor
Hometown
+/-
1
1
78
David Russell Melbourne, FL
Melbourne, FL
-
2
2
09
Todd Haught VOLUSIA, FL
VOLUSIA, FL
-
3
3
17
Brad Blanton Tavares, FL
Tavares, FL
-
Black Jack Seal Coating Bomber A
Finish
Start
#
Competitor
Hometown
+/-
1
3
15
Dustin Higdon Port Orange, FL
Port Orange, FL
2
2
5
27
CJ Creech Orange city, FL
Orange city, FL
3
3
6
81
Jim Snyder Edgewater, FL
Edgewater, FL
3
4
4
21
Todd Latour Orlando, FL
Orlando, FL
-
5
1
7
Aaron Foye Cocoa, FL
Cocoa, FL
-4
6
2
81X
Daniel Snyder Edgewater, FL
Edgewater, FL
-4
7
11
25
Nick Abatsas Longwood, FL
Longwood, FL
4
8
14
54
Larry Masters New Smyrna, FL
New Smyrna, FL
6
9
15
12F
Caleb Jones Deltona, FL
Deltona, FL
6
10
13
7X
Joe Sunday Orlando, FL
Orlando, FL
3
11
17
76
Leroy Crawford Deland, FL
Deland, FL
6
12
12
72
Bob Seay Port Orange, FL
Port Orange, FL
-
13
7
13
Chris Sevigny Samsula, FL
Samsula, FL
-6
14
10
111
Yuniel Diaz Deltona, FL
Deltona, FL
-4
15
9
14
Brandon Monroe Orlando, FL
Orlando, FL
-6
16
8
24
Jason Ferreira Lowell, MA
Lowell, MA
-8
DNS
18
77
Daniel Bromley Jacksonville, FL
Jacksonville, FL
-
DQ
16
47
Steven Wright
-
Finish
Start
#
Competitor
Hometown
+/-
1
5
81
Jim Snyder Edgewater, FL
Edgewater, FL
4
2
6
21
Todd Latour Orlando, FL
Orlando, FL
4
3
7
81X
Daniel Snyder Edgewater, FL
Edgewater, FL
4
4
2
13
Chris Sevigny Samsula, FL
Samsula, FL
-2
5
10
14
Brandon Monroe Orlando, FL
Orlando, FL
5
6
8
25
Nick Abatsas Longwood, FL
Longwood, FL
2
7
4
7X
Joe Sunday Orlando, FL
Orlando, FL
-3
8
3
12F
Caleb Jones Deltona, FL
Deltona, FL
-5
9
9
76
Leroy Crawford Deland, FL
Deland, FL
-
DNS
1
77
Daniel Bromley Jacksonville, FL
Jacksonville, FL
-
Finish
Start
#
Competitor
Hometown
+/-
1
1
47
Steven Wright
-
2
3
27
CJ Creech Orange city, FL
Orange city, FL
1
3
7
15
Dustin Higdon Port Orange, FL
Port Orange, FL
4
4
4
7
Aaron Foye Cocoa, FL
Cocoa, FL
-
5
8
24
Jason Ferreira Lowell, MA
Lowell, MA
3
6
2
111
Yuniel Diaz Deltona, FL
Deltona, FL
-4
7
6
72
Bob Seay Port Orange, FL
Port Orange, FL
-1
8
5
54
Larry Masters New Smyrna, FL
New Smyrna, FL
-3
Bomber B
Finish
Start
#
Competitor
Hometown
+/-
1
2
93
John Gross Melbourne, FL
Melbourne, FL
1
2
3
6
Tony Bromley Jacksonville, FL
Jacksonville, FL
1
3
4
23
Frank Button Altomonte Springs, FL
Altomonte Springs, FL
1
4
9
69
Shane Sutorus Orlando, FL
Orlando, FL
5
5
6
33
Noah Partlow Sanford, FL
Sanford, FL
1
6
8
44
Wayne Lewis Daytona Beach, FL
Daytona Beach, FL
2
7
7
29
James Adams Brooksville, FL
Brooksville, FL
-
8
1
89
William Hindman Orlando, FL
Orlando, FL
-7
9
5
66
Rick Gaither New Smyrna Beach, FL
New Smyrna Beach, FL
-4
DNS
11
CJ Creech Orange city, FL
Orange city, FL
-
Finish
Start
#
Competitor
Hometown
Time
1
6
Tony Bromley Jacksonville, FL
Jacksonville, FL
2
93
John Gross Melbourne, FL
Melbourne, FL
3
89
William Hindman Orlando, FL
Orlando, FL
4
23
Frank Button Altomonte Springs, FL
Altomonte Springs, FL
5
66
Rick Gaither New Smyrna Beach, FL
New Smyrna Beach, FL
6
33
Noah Partlow Sanford, FL
Sanford, FL
Florida Southern Ground Pounders
Finish
Start
#
Competitor
Hometown
+/-
1
6
34
John Smith
5
2
1
12
John Hatton na, FL
na, FL
-1
3
5
9
Art Kunzeman Moonshine Hill, TX
Moonshine Hill, TX
2
4
4
0
Scott Cutter Titusville, FL
Titusville, FL
-
5
2
44
Tobi Smith
-3
6
7
14
Billy Bellflower Mims, FL
Mims, FL
1
7
3
2X
Colin Smith Titusville, FL
Titusville, FL
-4
Finish
Start
#
Competitor
Hometown
+/-
1
6
34
John Smith
5
2
5
44
Tobi Smith
3
3
4
12
John Hatton na, FL
na, FL
1
4
1
2X
Colin Smith Titusville, FL
Titusville, FL
-3
5
3
0
Scott Cutter Titusville, FL
Titusville, FL
-2
6
2
9
Art Kunzeman Moonshine Hill, TX
Moonshine Hill, TX
-4
DNS
7
14
Billy Bellflower Mims, FL
Mims, FL
-