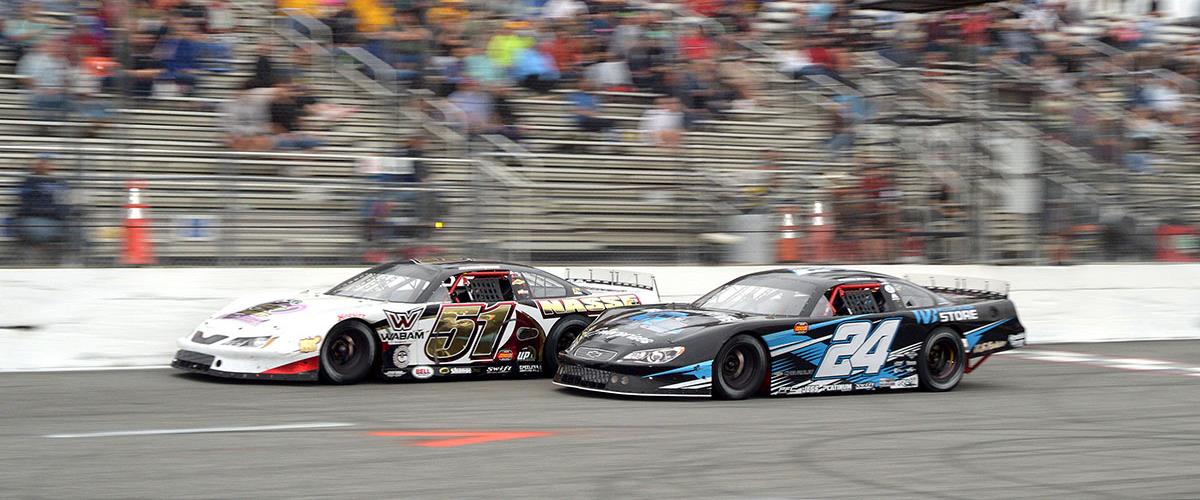 11/12/23 Fl Governors Cup 200 - David Rogers Super Late Models - Congratulations to the Winner #51 Stephen Nasse - #24 William Byron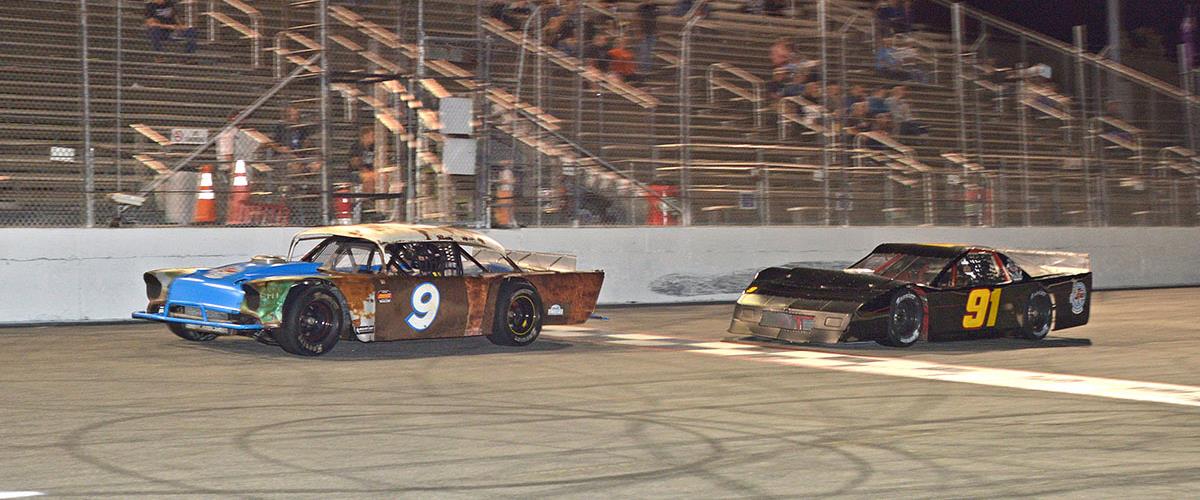 11/11/23 Prelude to the Cup-Florida Southern Ground Pounders - Winner #91 Brian Bellew - #9 Art Kunzeman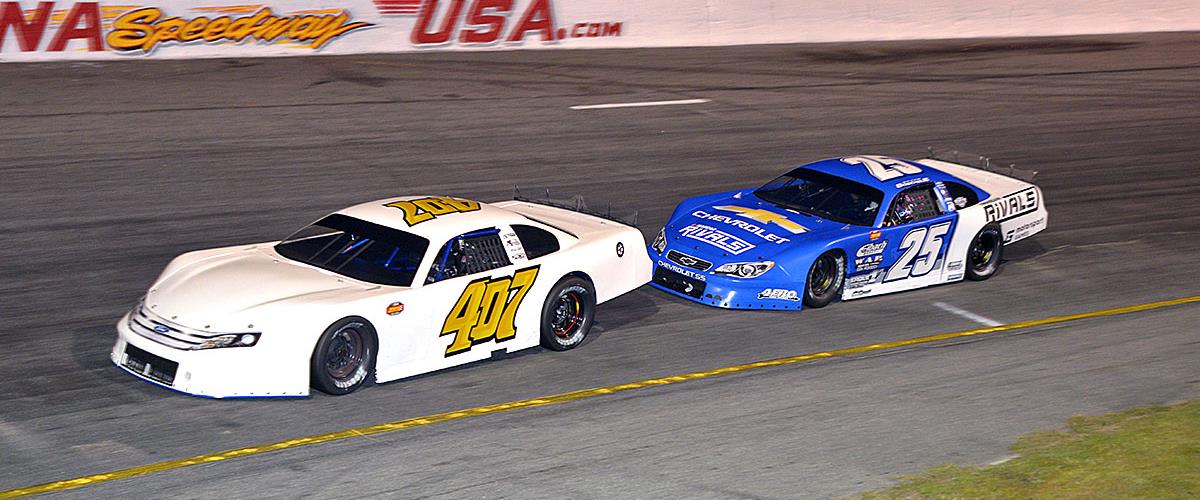 11/11/23 Prelude to the Cup Hoosier Racing Tires Congratulations to the Winner #25 Gavan Boschele - #407 Jason Vail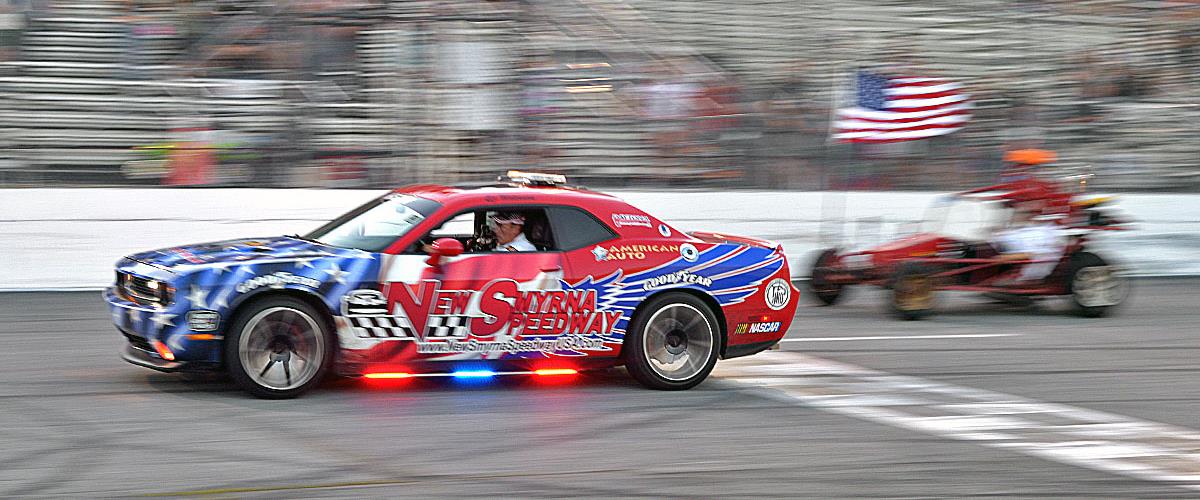 PACE CAR
EJ with American Auto & Tire Service in the beautiful ALL American Pace Car at New Smyrna Speedway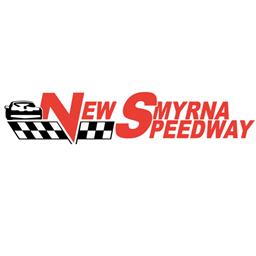 6/18/2022 - New Smyrna Speedway
New Smyrna Beach, FL
Florida Sunbelt Series Race 2 David Rogers Super Late Models 100
NEW SMYRNA SPEEDWAY
SATURDAY 6/18/22 SCHEDULE
PIT GATE / TECH / FUEL/ REGISTRATION OPEN FOR SLM TEAMS 10 AM
10:30 AM TEAMS THAT ARE SIGNED IN MAY PICK OUT RACE TIRES IN THE TIRE BARN
11:30 TEAMS MAY PICK OUT PRACTICE TIRES
RACE TIRES WILL BE IMPOUNDED. TIRE PURCHASE NOT MANDATORY BUT TIRES NOT PURCHASED ON RACE DAY ARE SUBJECT TO TIRE SAMPLING.
SLM ONLY PRACTICE 12:30 – 2:30
CROSSOVER GATE WILL OPEN EVERY 30 MIN TO ALLOW OTHERS IN (GATES WILL OPEN FOR 5 MIN)
BREAK 2:30 - 3:00
PIT GATES OPEN FOR ALL OTHER CLASSES AT 3:00
4:30 to 6:15 ROTATION PRACTICE BY RACE ORDER ALL CLASSES
SUPER LATE MODEL TIRE RELEASE / PRE QUALIFYING TECH 5:45
SUPER LATE MODEL QUALIFYING 6:30
SLM will be impounded on pit road. SLM will stage on front stretch for driver Intros!
DRIVERS MEETING MANDATORY 7:00
OPENING CEREMONIES 7:20
RACING BEGINS 7:30
Sunbelt Series Super Late Model 100
INTERMISSION
Sportsman 25
Bomber A 20
Ground Pounder 20
Super Stock 25
David Rogers Super Late Models

9 entries

Sportsman

8 entries

LKQ Super Stocks

14 entries

Black Jack Seal Coating Bomber A

17 entries

Florida Southern Ground Pounders

6 entries
Full Event Information on MyRacePass
David Rogers Super Late Models
Finish
Start
#
Competitor
Hometown
+/-
1
3
27
Bobby Good Lake Mary , FL
Lake Mary , FL
2
2
4
9
Brad May Oviedo, FL
Oviedo, FL
2
3
2
81
Connor Mosack Charlotte, NC
Charlotte, NC
-1
4
6
5
Gavan Boschele Mooresville, NC
Mooresville, NC
2
5
1
28
Dusty Williams Garden City, GA
Garden City, GA
-4
6
7
80
Brian Finney Merritt Island, FL
Merritt Island, FL
1
7
5
67
Colin Allman Plant City, FL
Plant City, FL
-2
8
9
112
Steve Weaver Plantation, FL
Plantation, FL
1
9
8
22
Nick White Inglis, FL
Inglis, FL
-1
Finish
Start
#
Competitor
Hometown
Time
1
9
Brad May Oviedo, FL
Oviedo, FL
2
27
Bobby Good Lake Mary , FL
Lake Mary , FL
3
81
Connor Mosack Charlotte, NC
Charlotte, NC
4
28
Dusty Williams Garden City, GA
Garden City, GA
5
67
Colin Allman Plant City, FL
Plant City, FL
6
5
Gavan Boschele Mooresville, NC
Mooresville, NC
7
80
Brian Finney Merritt Island, FL
Merritt Island, FL
8
22
Nick White Inglis, FL
Inglis, FL
9
112
Steve Weaver Plantation, FL
Plantation, FL
Sportsman
Finish
Start
#
Competitor
Hometown
+/-
1
2
7
Travis Devendorf Pompano Beach, FL
Pompano Beach, FL
1
2
5
12
Danny Frye Eustis, FL
Eustis, FL
3
3
3
63
George Alexander Melbourne, FL
Melbourne, FL
-
4
7
44
Bill Shea Orlando, FL
Orlando, FL
3
5
1
2
Ron Whaley New Smyrna, FL
New Smyrna, FL
-4
6
8
16
David Gould Melbourne, FL
Melbourne, FL
2
7
4
39
Russ Moore New Smyrna Beach, FL
New Smyrna Beach, FL
-3
8
6
112
David Werning Palm coast, FL
Palm coast, FL
-2
LKQ Super Stocks
Finish
Start
#
Competitor
Hometown
+/-
1
11
16
Rich Clouser Lake Helen, FL
Lake Helen, FL
10
2
8
99
Paul Koci New Smyrna Beach, FL
New Smyrna Beach, FL
6
3
9
56
Bobby Holley Osteen, FL
Osteen, FL
6
4
3
15
Tyler Prenesti Key Largo, FL
Key Largo, FL
-1
5
1
00
John Hodge Jacksonville, AR
Jacksonville, AR
-4
6
10
17
Eugene Tumminello Debary, FL
Debary, FL
4
7
4
37
Steven Metts Port Orange, FL
Port Orange, FL
-3
8
12
18
Gage Spears New Smyrna Beach, FL
New Smyrna Beach, FL
4
9
6
04
Doug Samion Christmas, FL
Christmas, FL
-3
10
13
56X
Cody Whitley Osteen, FL
Osteen, FL
3
11
5
48
Justin Spears New Smyrna Beach, FL
New Smyrna Beach, FL
-6
12
14
21
Mike Dahm Deltona, FL
Deltona, FL
2
13
2
30
George Spears New Smyrna Beach, FL
New Smyrna Beach, FL
-11
DNS
7
35
Brian Millar Longwood, FL
Longwood, FL
-
Black Jack Seal Coating Bomber A
Finish
Start
#
Competitor
Hometown
+/-
1
2
14
Brandon Monroe Orlando, FL
Orlando, FL
1
2
5
21
Todd Latour Orlando, FL
Orlando, FL
3
3
4
81
Jim Snyder Edgewater, FL
Edgewater, FL
1
4
10
7
Aaron Foye Cocoa, FL
Cocoa, FL
6
5
12
13
Chris Sevigny Samsula, FL
Samsula, FL
7
6
6
77
Daniel Bromley Jacksonville, FL
Jacksonville, FL
-
7
1
12F
Caleb Jones Deltona, FL
Deltona, FL
-6
8
11
81X
Daniel Snyder Edgewater, FL
Edgewater, FL
3
9
14
111
Yuniel Diaz Deltona, FL
Deltona, FL
5
10
9
27
CJ Creech Orange city, FL
Orange city, FL
-1
11
3
7X
Joe Sunday Orlando, FL
Orlando, FL
-8
12
15
25
Nick Abatsas Longwood, FL
Longwood, FL
3
13
7
75
Greg Pass Jacksonville, FL
Jacksonville, FL
-6
14
8
88
Larry Masters New Smyrna, FL
New Smyrna, FL
-6
DNS
13
58
William Ballough Vero Beach, FL
Vero Beach, FL
-
DNS
17
76
Leroy Crawford Deland, FL
Deland, FL
-
DQ
16
15
Dustin Higdon Port Orange, FL
Port Orange, FL
-
Florida Southern Ground Pounders
Finish
Start
#
Competitor
Hometown
+/-
1
1
9
Art Kunzeman Moonshine Hill, TX
Moonshine Hill, TX
-
2
2
0
Scott Cutter Titusville, FL
Titusville, FL
-
3
4
2X
Colin Smith Titusville, FL
Titusville, FL
1
4
3
44
Tobi Smith
-1
5
5
55
Scott Fobes Titusville, FL
Titusville, FL
-
DNS
6
14
Billy Bellflower Mims, FL
Mims, FL
-