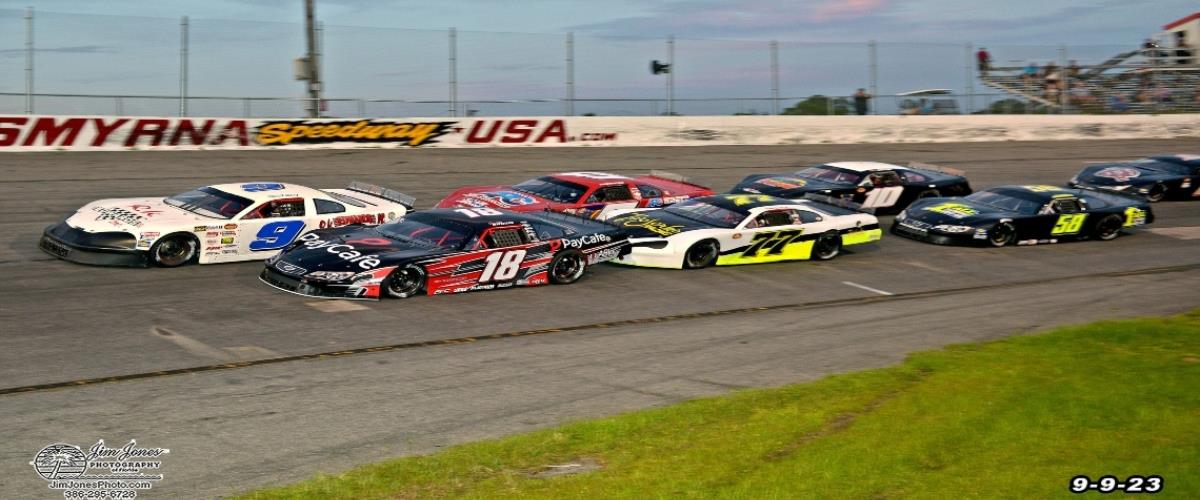 Congratulations Carson Brown #18 Winner of the Hoosier Challenge Pro Late Model 100!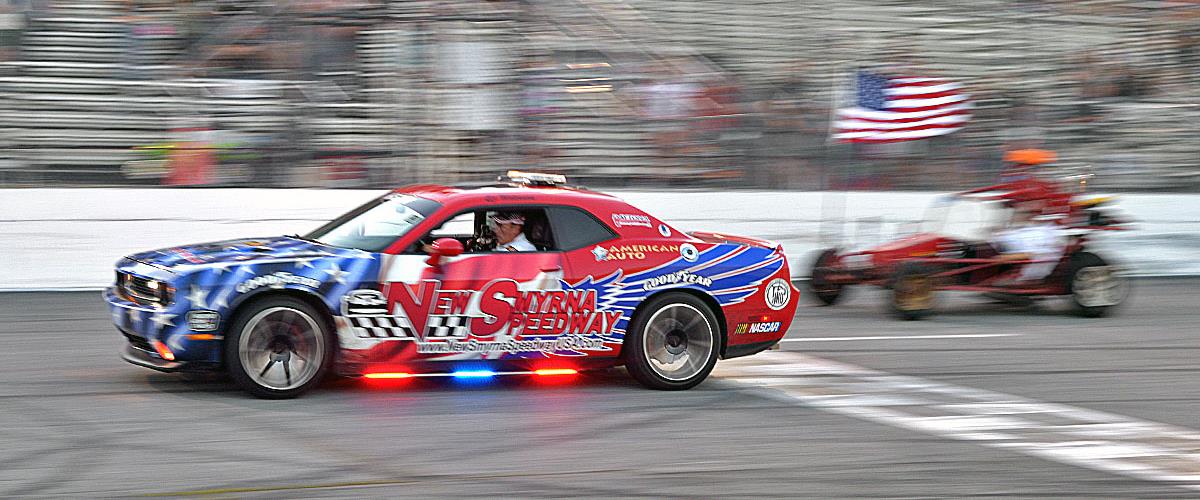 PACE CAR
EJ with American Auto & Tire Service in the beautiful ALL American Pace Car at New Smyrna Speedway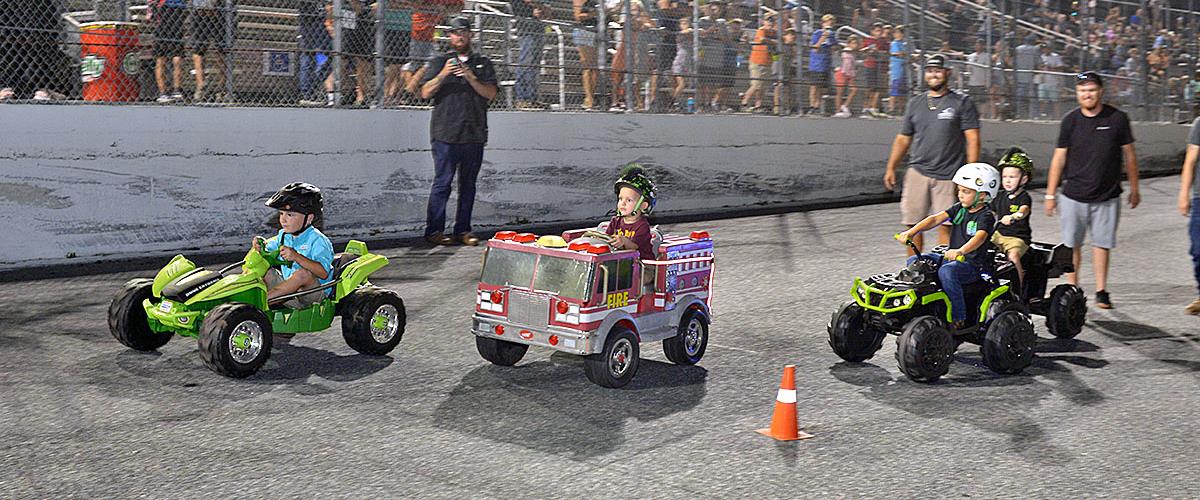 KIDS HOT WHEEL RACE
It was a fun night at New Smyrna Speedway with future racecar drivers!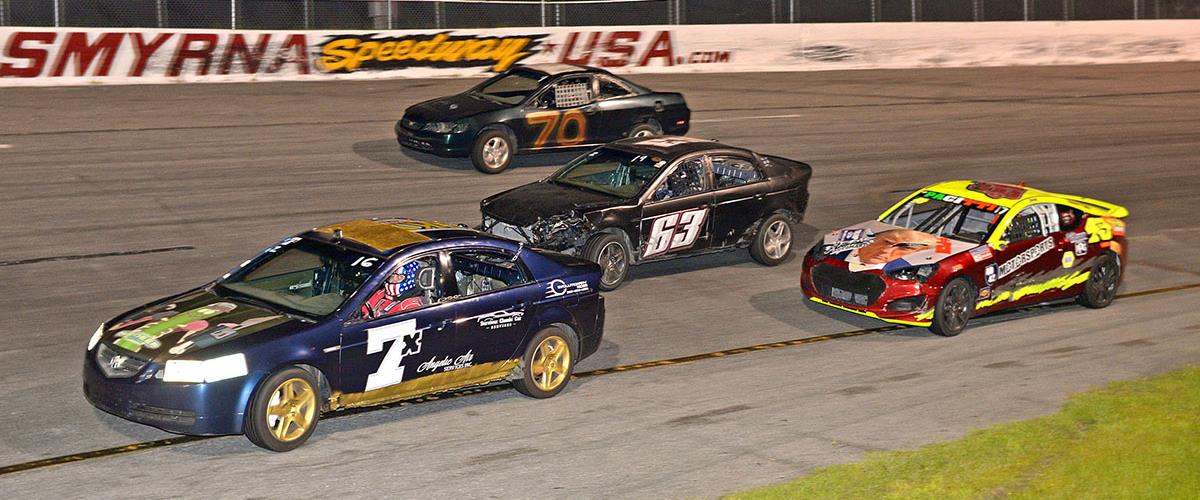 ENDURO
Nothing but excitement with the Annual Armadillo 100 Enduro Race at New Smyrna Speedway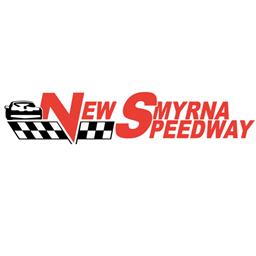 4/22/2023 - New Smyrna Speedway
New Smyrna Beach, FL
Modified Six Pack Series 75
Modified 75, Ashley Homes JAX Pro Trucks, Bomber A and 602 Modifieds.
NEW SMYRNA SPEEDWAY
SATURDAY 4/22/2023 SCHEDULE
PIT GATE / TECH / FUEL/ REGISTRATION OPEN 3:00
DIVISION PRACTICE 4:30-6:00
MODIFIED QUALIFYING 6:30
DRIVERS MEETING - MANDATORY
NO ENGINES OR GENERATORS RUNNING 7:00
PARADE LAP / NATIONAL ANTHEM 7:20
RACING BEGINS 7:30
HEATS:
PRO TRUCKS 8 LAPS
602 MODIFIEDS 8 LAPS
BOMBER A 8 LAPS
INTERMISSION:
FEATURES:
MODIFIEDS 75 LAPS
PRO TRUCKS 25 LAPS
602 MODIFIEDS 20 LAPS
BOMBER A 20 LAPS
REGISTRATION for Weekly Divisions closes at 6:00pm
Track Radio Frequency: 468.8625
J&C Gradall Modifieds

9 entries

Ashley Homes JAX Trucks

12 entries

Black Jack Seal Coating Bomber A

15 entries

602 Tour Modifieds

10 entries
Full Event Information on MyRacePass
J&C Gradall Modifieds
Finish
Start
#
Competitor
Hometown
+/-
1
4
45
Jason Lester Palmetto, FL
Palmetto, FL
3
2
3
66
Jerry Symons New Smyrna Beach, FL
New Smyrna Beach, FL
1
3
5
24
Bruce Bennett Orlando, FL
Orlando, FL
2
4
9
4B
Alan Bruns Clermont, FL
Clermont, FL
5
5
6
33
Shain Held Orlando, FL
Orlando, FL
1
6
7
4
Michael Mark Deland, FL
Deland, FL
1
7
1
1W
Wayne Parker Mt Dora, FL
Mt Dora, FL
-6
8
8
16G
Brian Gayton Orlando, FL
Orlando, FL
-
DQ
2
38
Ricky Moxley Palm City, FL
Palm City, FL
-
Finish
Start
#
Competitor
Hometown
Time
1
45
Jason Lester Palmetto, FL
Palmetto, FL
2
66
Jerry Symons New Smyrna Beach, FL
New Smyrna Beach, FL
3
38
Ricky Moxley Palm City, FL
Palm City, FL
4
1W
Wayne Parker Mt Dora, FL
Mt Dora, FL
5
24
Bruce Bennett Orlando, FL
Orlando, FL
6
33
Shain Held Orlando, FL
Orlando, FL
7
4
Michael Mark Deland, FL
Deland, FL
8
16G
Brian Gayton Orlando, FL
Orlando, FL
9
4B
Alan Bruns Clermont, FL
Clermont, FL
Ashley Homes JAX Trucks
Finish
Start
#
Competitor
Hometown
+/-
1
4
59
Becca Monopoli Lakeland, FL
Lakeland, FL
3
2
1
31
Rodney Haddock Hilliard, FL
Hilliard, FL
-1
3
11
5
Richard Griffis West Palm, FL
West Palm, FL
8
4
6
16
Dylan LeBeau Daytona Beach, FL
Daytona Beach, FL
2
5
2
99
Richard Lavance Port Charlotte, FL
Port Charlotte, FL
-3
6
5
24
Dalton Smith Palm coast, FL
Palm coast, FL
-1
7
12
24X
Donnie Burkhalter Orlando, FL
Orlando, FL
5
8
7
52
Brian Soukup Deltona, FL
Deltona, FL
-1
9
9
35
Michael Whipple Deland, FL
Deland, FL
-
10
3
21
Chuck Hiers Jacksonville, FL
Jacksonville, FL
-7
11
8
00
Jack Hall Davenport, FL
Davenport, FL
-3
12
10
2
Randy Koon Lakeland, FL
Lakeland, FL
-2
Finish
Start
#
Competitor
Hometown
+/-
1
3
59
Becca Monopoli Lakeland, FL
Lakeland, FL
2
2
2
21
Chuck Hiers Jacksonville, FL
Jacksonville, FL
-
3
1
99
Richard Lavance Port Charlotte, FL
Port Charlotte, FL
-2
4
9
31
Rodney Haddock Hilliard, FL
Hilliard, FL
5
5
6
24
Dalton Smith Palm coast, FL
Palm coast, FL
1
6
10
16
Dylan LeBeau Daytona Beach, FL
Daytona Beach, FL
4
7
5
52
Brian Soukup Deltona, FL
Deltona, FL
-2
8
7
00
Jack Hall Davenport, FL
Davenport, FL
-1
9
4
35
Michael Whipple Deland, FL
Deland, FL
-5
10
11
2
Randy Koon Lakeland, FL
Lakeland, FL
1
11
8
5
Richard Griffis West Palm, FL
West Palm, FL
-3
Black Jack Seal Coating Bomber A
Finish
Start
#
Competitor
Hometown
+/-
1
6
81
Dustin Higdon Port Orange, FL
Port Orange, FL
5
2
14
27
CJ Creech Orange city, FL
Orange city, FL
12
3
9
X
Courtney Breadon New Smyrna Beach, FL
New Smyrna Beach, FL
6
4
5
7
Aaron Foye Cocoa, FL
Cocoa, FL
1
5
3
71
Bruce Gayton Orlando, FL
Orlando, FL
-2
6
12
88
Larry Masters New Smyrna, FL
New Smyrna, FL
6
7
1
83
Barry Acker New Smyrna Beach, FL
New Smyrna Beach, FL
-6
8
8
5
Michael Austin Palm Bay, FL
Palm Bay, FL
-
9
2
3
Eddie Evans Port Orange, FL
Port Orange, FL
-7
10
10
13
Joe Racine Port Orange, FL
Port Orange, FL
-
11
4
14K
Brandon Gaither New Smyrna Beach, FL
New Smyrna Beach, FL
-7
12
7
14
Brandon Monroe Orlando, FL
Orlando, FL
-5
13
11
77
Joe Sunday Orlando, FL
Orlando, FL
-2
14
15
72
Charles Friddle Cocoa, FL
Cocoa, FL
1
15
13
75
Greg Pass Jacksonville, FL
Jacksonville, FL
-2
Finish
Start
#
Competitor
Hometown
+/-
1
3
14K
Brandon Gaither New Smyrna Beach, FL
New Smyrna Beach, FL
2
2
7
3
Eddie Evans Port Orange, FL
Port Orange, FL
5
3
5
7
Aaron Foye Cocoa, FL
Cocoa, FL
2
4
8
14
Brandon Monroe Orlando, FL
Orlando, FL
4
5
6
X
Courtney Breadon New Smyrna Beach, FL
New Smyrna Beach, FL
1
6
2
77
Joe Sunday Orlando, FL
Orlando, FL
-4
7
1
75
Greg Pass Jacksonville, FL
Jacksonville, FL
-6
8
4
72
Charles Friddle Cocoa, FL
Cocoa, FL
-4
Finish
Start
#
Competitor
Hometown
+/-
1
3
27
CJ Creech Orange city, FL
Orange city, FL
2
2
6
71
Bruce Gayton Orlando, FL
Orlando, FL
4
3
2
83
Barry Acker New Smyrna Beach, FL
New Smyrna Beach, FL
-1
4
5
81
Dustin Higdon Port Orange, FL
Port Orange, FL
1
5
4
5
Michael Austin Palm Bay, FL
Palm Bay, FL
-1
6
7
13
Joe Racine Port Orange, FL
Port Orange, FL
1
7
1
88
Larry Masters New Smyrna, FL
New Smyrna, FL
-6
602 Tour Modifieds
Finish
Start
#
Competitor
Hometown
+/-
1
8
09
Christopher Hatton
7
2
2
124
Ron Dallesandro Palmbay, FL
Palmbay, FL
-
3
3
11
Thomas Turano Suwanee, GA
Suwanee, GA
-
4
1
04
Chris Hatton Enterprise, FL
Enterprise, FL
-3
5
5
7
Tony Pereira Miami, FL
Miami, FL
-
6
7
19
Curt Hatton Jacksonville, FL
Jacksonville, FL
1
7
4
33
Ricky Moxley Palm City, FL
Palm City, FL
-3
8
6
72
Bud McIntyre New Smyrna, FL
New Smyrna, FL
-2
DNS
10
61
Dustin Hatton Deland, FL
Deland, FL
-
DNS
9
81
Jared Zabele Deltona, FL
Deltona, FL
-
Finish
Start
#
Competitor
Hometown
+/-
1
1
33
Ricky Moxley Palm City, FL
Palm City, FL
-
2
3
09
Christopher Hatton
1
3
6
11
Thomas Turano Suwanee, GA
Suwanee, GA
3
4
4
124
Ron Dallesandro Palmbay, FL
Palmbay, FL
-
5
8
04
Chris Hatton Enterprise, FL
Enterprise, FL
3
6
9
7
Tony Pereira Miami, FL
Miami, FL
3
7
7
72
Bud McIntyre New Smyrna, FL
New Smyrna, FL
-
8
2
19
Curt Hatton Jacksonville, FL
Jacksonville, FL
-6
DNS
5
61
Dustin Hatton Deland, FL
Deland, FL
-
DNS
81
Jared Zabele Deltona, FL
Deltona, FL
-