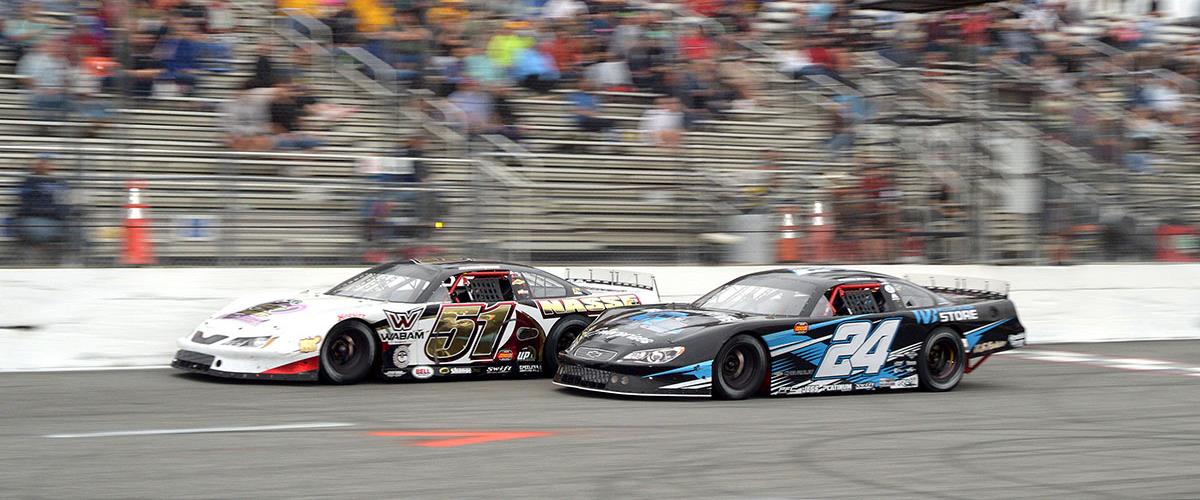 11/12/23 Fl Governors Cup 200 - David Rogers Super Late Models - Congratulations to the Winner #51 Stephen Nasse - #24 William Byron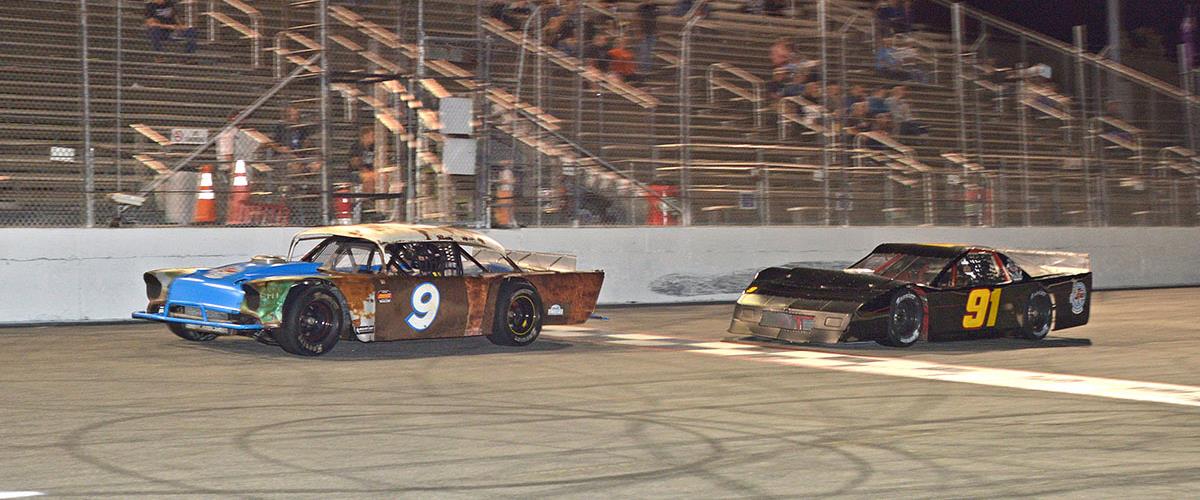 11/11/23 Prelude to the Cup-Florida Southern Ground Pounders - Winner #91 Brian Bellew - #9 Art Kunzeman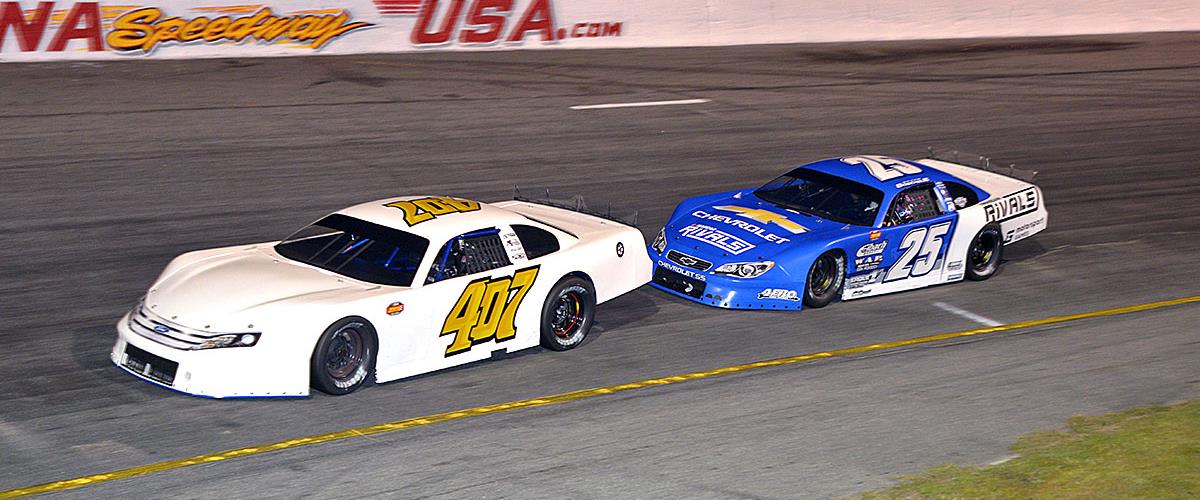 11/11/23 Prelude to the Cup Hoosier Racing Tires Congratulations to the Winner #25 Gavan Boschele - #407 Jason Vail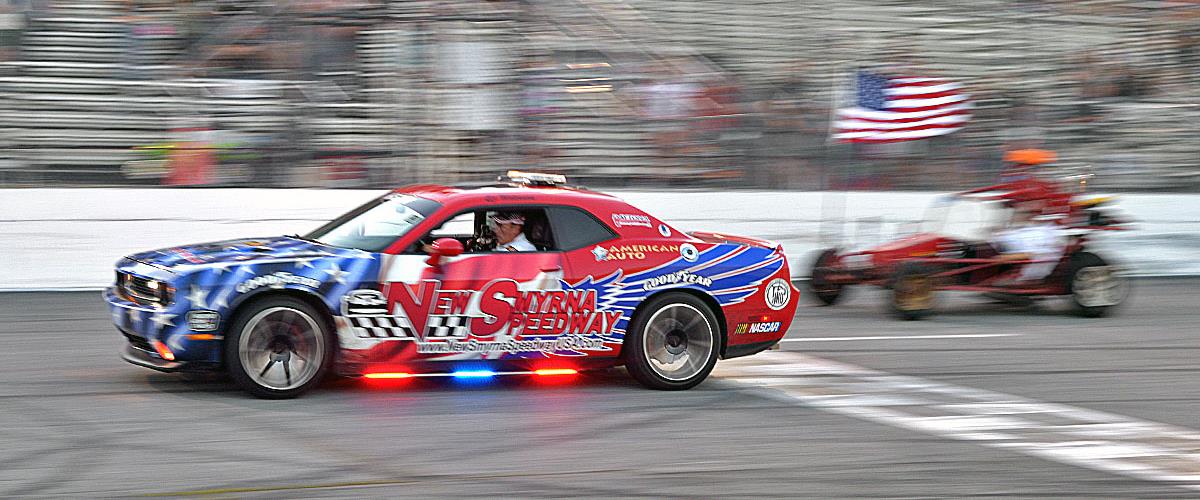 PACE CAR
EJ with American Auto & Tire Service in the beautiful ALL American Pace Car at New Smyrna Speedway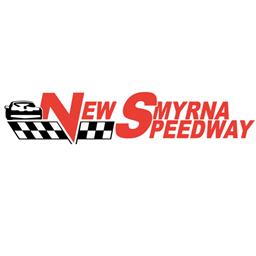 7/22/2023 - New Smyrna Speedway
New Smyrna Beach, FL
Modified Six Pack Series 75 DOUBLE POINTS $2,000 to Win!
Modified 75 Double Points $2000 to win, E-Mods, Super Stock, Bomber B and 602 Mods
Double points for modifieds only to make up for rain out.
NEW SMYRNA SPEEDWAY
SATURDAY 7/22/2023 SCHEDULE
PIT GATE / TECH / FUEL/ REGISTRATION OPEN 2:00 PM
DIVISION PRACTICE 3:30 - 5:20 PM
4:30 PM MODIFIED TIRE RELEASE
TIRE PURCHASE IS NOT MANDATORY, TIRES NOT PURCHASED AT THE TRACK ARE SUBJECT TO TIRE PUNCHING. THOSE WHO DO NOT PURCHASE TIRES CAN NOT QUALIFY AND MUST START IN THE BACK.
5 PM MODIFIED PRE QUALIFYING TECH OPENS
DRIVERS MEETING MANDATORY
NO ENGINES OR GENERATORS RUNNING 5:30 PM
RACING BEGINS 6:00 PM
TIME TRIALS: MODIFIEDS (CARS IMPOUNDED ON PIT ROAD).
SUPER STOCK HEATS 8 LAPS
602 MOD HEATS 8 LAPS
BOMBER B HEATS 8 LAPS
E-MODS HEATS 8 LAPS
FEATURES: 7:30
MODIFIED SIX PACK SERIES 75 LAPS
SUPER STOCK 25 LAPS
602 MOD 20 LAPS
BOMBER B 20 LAPS
E-MODS 25 LAPS
REGISTRATION for Weekly Divisions closes at 6:00pm
Track Radio Frequency: 468.8625
J&C Gradall Modifieds

10 entries

Central FL Air Conditioning and Heating INC. E-Mod

9 entries

LKQ Super Stocks

7 entries

Bomber B

14 entries

602 Tour Modifieds

7 entries
Full Event Information on MyRacePass
J&C Gradall Modifieds
Finish
Start
#
Competitor
Hometown
+/-
1
5
45
Jason Lester Palmetto, FL
Palmetto, FL
4
2
10
35
Gregory Krom Sarasota, FL
Sarasota, FL
8
3
8
4B
Alan Bruns Clermont, FL
Clermont, FL
5
4
6
5
Chad Rutherford Hollywood, FL
Hollywood, FL
2
5
3
66
Jerry Symons New Smyrna Beach, FL
New Smyrna Beach, FL
-2
6
4
1W
Wayne Parker Mt Dora, FL
Mt Dora, FL
-2
7
7
16G
Brian Gayton Orlando, FL
Orlando, FL
-
8
1
2H
Matthew Jarrett Orlando, FL
Orlando, FL
-7
9
2
38
Ricky Moxley Palm City, FL
Palm City, FL
-7
10
9
33
Shain Held Orlando, FL
Orlando, FL
-1
Finish
Start
#
Competitor
Hometown
Time
1
6
45
Jason Lester Palmetto, FL
Palmetto, FL
18.420
2
3
1W
Wayne Parker Mt Dora, FL
Mt Dora, FL
18.494
3
4
66
Jerry Symons New Smyrna Beach, FL
New Smyrna Beach, FL
18.900
4
2
38
Ricky Moxley Palm City, FL
Palm City, FL
18.962
5
1
2H
Matthew Jarrett Orlando, FL
Orlando, FL
19.008
6
9
5
Chad Rutherford Hollywood, FL
Hollywood, FL
19.091
7
7
4B
Alan Bruns Clermont, FL
Clermont, FL
19.103
8
10
16G
Brian Gayton Orlando, FL
Orlando, FL
20.175
9
8
33
Shain Held Orlando, FL
Orlando, FL
10
5
35
Gregory Krom Sarasota, FL
Sarasota, FL
Central FL Air Conditioning and Heating INC. E-Mod
Finish
Start
#
Competitor
Hometown
+/-
1
3
52
Hank Baker oak hill, FL
oak hill, FL
2
2
4
112
Jarrett Korpi Osteen, FL
Osteen, FL
2
3
9
75
Dylan LeBeau Daytona Beach, FL
Daytona Beach, FL
6
4
2
63
Dale Howard Lake Helen, FL
Lake Helen, FL
-2
5
1
17
Curtis Robinson St. Augustine, FL
St. Augustine, FL
-4
6
6
16
David LeBeau Daytona Beach, FL
Daytona Beach, FL
-
7
8
8
Jay Wooldridge Palm Bay, FL
Palm Bay, FL
1
DNS
7
5
Travis Soukup Deltona, FL
Deltona, FL
-
DQ
5
38
Dylan Williams
-
Finish
Start
#
Competitor
Hometown
+/-
1
3
75
Dylan LeBeau Daytona Beach, FL
Daytona Beach, FL
2
2
7
112
Jarrett Korpi Osteen, FL
Osteen, FL
5
3
4
52
Hank Baker oak hill, FL
oak hill, FL
1
4
1
63
Dale Howard Lake Helen, FL
Lake Helen, FL
-3
5
2
17
Curtis Robinson St. Augustine, FL
St. Augustine, FL
-3
6
6
38
Dylan Williams
-
7
8
16
David LeBeau Daytona Beach, FL
Daytona Beach, FL
1
8
9
5
Travis Soukup Deltona, FL
Deltona, FL
1
9
5
8
Jay Wooldridge Palm Bay, FL
Palm Bay, FL
-4
LKQ Super Stocks
Finish
Start
#
Competitor
Hometown
+/-
1
6
23
George Spears New Smyrna Beach, FL
New Smyrna Beach, FL
5
2
2
5
Blake Clouser Lake Helen, FL
Lake Helen, FL
-
3
3
56
Bobby Holley Osteen, FL
Osteen, FL
-
4
4
15
Tyler Prenesti Key Largo, FL
Key Largo, FL
-
5
5
58
Gage Spears New Smyrna Beach, FL
New Smyrna Beach, FL
-
6
1
48
Justin Spears New Smyrna Beach, FL
New Smyrna Beach, FL
-5
DNS
7
37
Steven Metts Port Orange, FL
Port Orange, FL
-
Finish
Start
#
Competitor
Hometown
+/-
1
1
56
Bobby Holley Osteen, FL
Osteen, FL
-
2
4
5
Blake Clouser Lake Helen, FL
Lake Helen, FL
2
3
6
23
George Spears New Smyrna Beach, FL
New Smyrna Beach, FL
3
4
3
48
Justin Spears New Smyrna Beach, FL
New Smyrna Beach, FL
-1
5
2
15
Tyler Prenesti Key Largo, FL
Key Largo, FL
-3
6
7
58
Gage Spears New Smyrna Beach, FL
New Smyrna Beach, FL
1
DNS
5
37
Steven Metts Port Orange, FL
Port Orange, FL
-
Bomber B
Finish
Start
#
Competitor
Hometown
+/-
1
6
15
Brandon Gaither New Smyrna Beach, FL
New Smyrna Beach, FL
5
2
5
23
Frank Button Altomonte Springs, FL
Altomonte Springs, FL
3
3
3
22
Eric Kottwitz Edgewater, FL
Edgewater, FL
-
4
1
49
Jason Skovran Palm City, FL
Palm City, FL
-3
5
7
80
Kenny Roth Deltona, FL
Deltona, FL
2
6
11
26
Lucas Johnson Orange Park, FL
Orange Park, FL
5
7
9
50
Chuck Brewer New Smyrna Beach, FL
New Smyrna Beach, FL
2
8
2
7
Aaron Foye Cocoa, FL
Cocoa, FL
-6
9
8
27
Joe Warner Palm City, FL
Palm City, FL
-1
10
10
23H
Jim Snyder Edgewater, FL
Edgewater, FL
-
11
14
56
Mike Dahm Deltona, FL
Deltona, FL
3
12
13
66S
Chase Symons
1
DNS
4
58
Ben Seay Deland, FL
Deland, FL
-
DNS
12
23D
Daniel Snyder Edgewater, FL
Edgewater, FL
-
Finish
Start
#
Competitor
Hometown
+/-
1
5
15
Brandon Gaither New Smyrna Beach, FL
New Smyrna Beach, FL
4
2
2
58
Ben Seay Deland, FL
Deland, FL
-
3
6
7
Aaron Foye Cocoa, FL
Cocoa, FL
3
4
4
80
Kenny Roth Deltona, FL
Deltona, FL
-
5
7
50
Chuck Brewer New Smyrna Beach, FL
New Smyrna Beach, FL
2
6
1
26
Lucas Johnson Orange Park, FL
Orange Park, FL
-5
7
3
23D
Daniel Snyder Edgewater, FL
Edgewater, FL
-4
Finish
Start
#
Competitor
Hometown
+/-
1
2
23
Frank Button Altomonte Springs, FL
Altomonte Springs, FL
1
2
4
66S
Chase Symons
2
3
1
22
Eric Kottwitz Edgewater, FL
Edgewater, FL
-2
4
3
49
Jason Skovran Palm City, FL
Palm City, FL
-1
5
6
27
Joe Warner Palm City, FL
Palm City, FL
1
6
5
23H
Jim Snyder Edgewater, FL
Edgewater, FL
-1
DNS
7
56
Mike Dahm Deltona, FL
Deltona, FL
-
602 Tour Modifieds
Finish
Start
#
Competitor
Hometown
+/-
1
7
09
Christopher Hatton
6
2
3
33
Ricky Moxley Palm City, FL
Palm City, FL
1
3
2
7
Tony Pereira Miami, FL
Miami, FL
-1
4
4
09X
Chris Hatton Enterprise, FL
Enterprise, FL
-
5
5
11
Curt Hatton Jacksonville, FL
Jacksonville, FL
-
6
6
88
John Hatton na, FL
na, FL
-
7
1
04
Rob Schultz Wayside, NJ
Wayside, NJ
-6
Finish
Start
#
Competitor
Hometown
+/-
1
2
09
Christopher Hatton
1
2
5
33
Ricky Moxley Palm City, FL
Palm City, FL
3
3
7
7
Tony Pereira Miami, FL
Miami, FL
4
4
3
04
Rob Schultz Wayside, NJ
Wayside, NJ
-1
5
1
09X
Chris Hatton Enterprise, FL
Enterprise, FL
-4
6
6
11
Curt Hatton Jacksonville, FL
Jacksonville, FL
-
7
4
88
John Hatton na, FL
na, FL
-3